4 September 2020 | News | Anna Trowse
Australian Sparkling Report 2020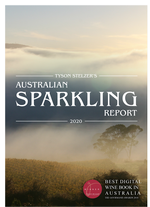 We're pleased to again have been awarded a six star rating in the Tyson Stelzer's Australian Sparkling Report 2020, which makes us the highest rated sparkling wine producer in the Adelaide Hills. Below are the summaries of our most highly ranked wines in this year's edition.
2013 BELTANA BLANC DE BLANCS - 95 POINTS
Deviation Road's flagship has quickly ascended to a revered position among Australia's greatest sparkling wines... In the midst of such complexity, it is the focus and poise of its acid line on the finish that defines its true greatness, achieving energetic vibrancy at the same time as the impeccable integration that can only be summoned with perfect ripeness. A benchmark Beltana and one of the greatest wines yet from Deviation Road.
#12 IN TOP 30 AUSTRALIAN SPARKLING WINES OF THE YEAR 2020

2017 LOFTIA VINTAGE BRUT - 94 POINTS
There is a compelling harmony, purity and seamlessness to this vintage of Loftia, marrying chardonnay and pinot noir in equal measure with impeccable polish. Kate and Hamish Laurie's skill is exemplified in a cuvée more about elegance and texture than it is about aroma, flavour and structure – the holy grail of sparkling winemaking that so few ever attain – and more elusive in the Adelaide Hills than it is in Tasmania or Champagne.
SPARKLING WINE OF THE YEAR UNDER $50 I #20 IN TOP 30 AUSTRALIAN SPARKLING WINES OF THE YEAR 2020

2017 SOUTHCOTE BLANC DE NOIRS - 94 POINTS
Wonderful red cherries and strawberries meet layers of spice and a hint of regional pink pepper amidst a palate at once succulent and at the same time structured with the fine grip of well-gauged phenolic tension. Brilliant blanc de noirs.
#22 IN TOP 30 AUSTRALIAN SPARKLING WINES OF THE YEAR 2020

2012 LATE DISGORGED LOFTIA VINTAGE BRUT - 94 POINTS
Resounding evidence of the fanatical precision of Deviation Road in the vines and the wines, and the effortless longevity that this infuses, this is a tremendous Loftia filled with energy and promise. A more than two-thirds majority of pinot noir in concert with almost seven years on lees build a full straw hue with a blush tint and crashing waves of toast, roast almonds, brioche and lemon meringue before dissolving into a glittering tail of strong, crystalline Adelaide Hills acidity, beckoning many more years of potential yet. Impressive line, length and endurance.
#29 IN TOP 30 AUSTRALIAN SPARKLING WINES OF THE YEAR 2020
NV ALTAIR BRUT ROSE - 94 POINTS
Altair is rising to ever greater heights of complexity with each passing release, while ever upholding the refreshing elegance and clean-cut purity that set it apart as one of the greatest rosés on the Australian mainland... It's been impeccably crafted, with super fine tannins that lend just the right level of phenolic presence to the finish, and very much less than most in the Hills.
Comments
Commenting has been turned off.
Subscribe to our newsletter
Keep up to date on the latest wine releases, events, and promotions