28 April 2016 | Events, News | Anna Trowse
Deviation Road Wines at Tasting Australia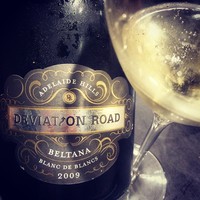 Next week Tasting Australia kicks off in Adelaide with an absolute feast of all things food and wine! We are thrilled to be involved with three events, so get on board and we'll see you there.
5 MAY :: Single Sites Dinner
Book here
The precious last cases of our multi award winning 2009 Beltana Blanc de Blancs have been saved for this iconic event. Our Beltana will be served with three mouthwatering canapes created by Lachlan Colwill from Hentley Farm. Kate will be on hand to talk you through the story of our famous Beltana and how it has been matched to Lachlan's culinary creations.
Six further food and wine matched courses will follow the canapes, giving you an absolutely unforgettable dining experience.
7 MAY :: Origins Dinner
More Info
Were you one of the lucky ones to snaffle a ticket for this coveted sold out dinner? More than 30 chefs and winemakers will assemble at a secret location to take you on a culinary adventure using the best South Australian produce and matched with award winning beer and wines.
Kate and Hamish will be on hand to pour our award winning Altair Brut Rose.
6 MAY :: Think Session – IS A NAME ABOUT ORIGIN, METHOD, BREED OR TRADITION?
More Info
Many of today's specialty products have names which consumers treat as generic – Should Champagne be different to Sparkline wine? Kate joins a panel which includes Chin Chin & Kong executive chef, Benjamin Cooper from Melbourne, gin distiller, Jon Lark from KI, beef producer, Scott de Bruin from the Limestone coast and cheese maker, Kris Lloyd from the Adelaide Hills, to discuss naming of their products and their opinions on this very contentious issue.
Friday 6 May, 2.45pm
Tasting Australia, Town Square – Victoria Square, Adelaide)

Comments
Commenting has been turned off.
Subscribe to our newsletter
Keep up to date on the latest wine releases, events, and promotions