15 April 2015 | Gabrielle Cowley
French Champagne, Aussie Sparkling and our Beltana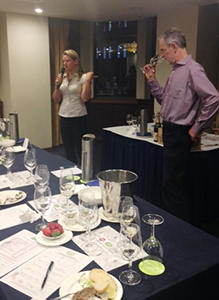 Last night proved a very enjoyable occasion for those lucky enough to have purchased tickets to the sold out Ask Huon Masterclass: French Champagne VS Aussie Sparkling.
The lineup was impressive, I'm talking Krug Grande Cuvée, Pol Roger, Delamotte Vintage Blanc de Blancs, Deutz Cuvée William Deutz, and the stunning Arras E.J. Carr Late Disgorged 2002 kind of impressive.
And yes, our rarely tasted Beltana Blanc de Blancs was included in the lineup. Eeep, exciting!
The philosophy of the night was to taste, discuss and compare. And taste they did. The night was a tastefest of quality fizz and local produce. All 12 wines (6 French and 6 Australian) were top wines in their categories and were served with oysters, smoked salmon and other antipasto delights.
"I had a great time last night with some fabulous wines and an engaging crowd" said co-host Kate Laurie.
"To see the Beltana in such a stellar lineup was a great moment for me" she adds.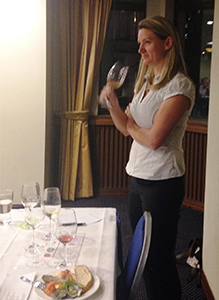 The Beltana went up against the French and the general consensus on the night was that they couldn't tell it apart from the French fizz. A great testiment to the love that Kate and Hamish Laurie put into each bottle of Beltana.
"Kate and Hamish Laurie are the latest sensation in boutique Australian fizz, and Beltana is their best cuvee. Five years on lees has brought magnificent complexity to a core of refreshing Adelaide Hills Chardonnay" writes Tyson Stelzer in the current issue of the Adelaide Hills Magazine.
Stay tuned to our events page for details on our upcoming 2015 Champagne Discoveries masterclasses. Maybe we can get Huon Hooke to co-host one with Kate.
To purchase the Beltana, please visit our online store.
Comments
Commenting has been turned off.
Subscribe to our newsletter
Keep up to date on the latest wine releases, events, and promotions